The Hospital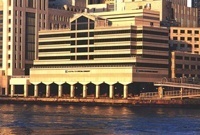 Hospital for Special Surgery is the oldest orthopaedic hospital in the country, having been founded in 1863. It is located in the heart of New York City, alongside the East River and within walking distance of Central Park, shopping districts, and many fine eateries. HSS specializes in musculoskeletal disorders, and performs more orthopaedic procedures per year than any other facility in the world. It has been nationally ranked as the #1 orthopaedic hospital in the Unites States by US News and World Report for 2007 and 2008. We are affiliated with Weill Cornell Medical College.

Hospital for Special Surgery has also been awarded the prestigious Magnet Nursing award in recognition for nursing excellence, by the American Nursing Credentialing Center.
Click here for more information.
U.S. News: Best Hospitals